The Olympus AS-7000
The Olympus AS-7000 Transcription Kit includes a 4 button footswitch and stereo headset to ensure ergonomic working by the transcriptionist.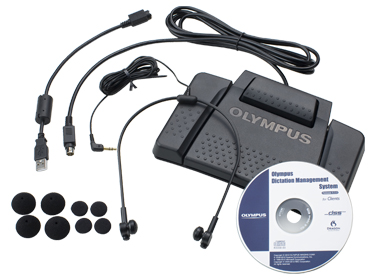 In addition, process efficiency is optimised thanks to the new "Olympus Dictation Management System - Transcription Module" bundled with this Transcription Kit. Besides making secure file management easier than ever before, it offers multiple file transfer options to suit individual requirements. Full Citrix and Terminal Service support is provided and it is compatible with POP3, SMTP, and extended MAPI email environments. Moreover, SSL support for email/ftp is also included.
RS31 - 4 button USB footswitch (3 + 1)
For hands free operation
Under chin ear phone E-62
ODMS - Olympus Dictation Management System CD (R6)
Transcription module to organize and playback dictations
Manages DSSPro, DSS, WAV, WMA, and MP3 audio files
File and document management
Management of sender profiles
Geared for Dragon Naturally Speaking
Dragon Speech recognition Integration
Speech Recognition in just Five Steps, from one easy to use platform...
An author dictates into a DS-7000 or DS-3500 Digital Voice Recorder.
After the author has connected the digital voice recorder (via USB download cable or Docking Cradle) to a computer set up with the ODMS Dictation Module, the dictation files are transferred via email, FTP, or local area network (within the same office).
Transferred files are transcribed by Dragon NaturallySpeaking using the speech Recognition Cue within the ODMS Software. Dragon profiles can be set to automatically select depending on the Author set at the point of dictation.
A proofreader reviews the resulting document and makes any necessary corrections. Corrections may be used to further improve the accuracy of Dragon. Profiles can be saved at the point of completion and realtime speech recognition accuracy will be improved.
The final document is ready for the next stage of workflow (i.e. sent for further review and editing, saved into specific location, transmitted via email etc.)