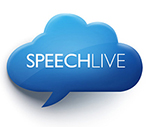 This winter we have teamed up with Philips to bring you the very best deals including
the latest cloud technology with Speechlive.

The secure cloud based solution can be used on your mobile phone and throughout
a wide range of philips Hardware for both Authors and Typists.

With a Special Offer SpeechLive package now available you can benefit from
20 minutes-a-month FREE Speech Recognition Service.

---